Bridge Design Competition

Audience: TY & Secondary students

The Faculty of Engineering at IT Carlow and School of Engineering at Waterford IT are proud to announce the launch of its first ever BRIDGE DESIGN COMPETITION.  The competition is aimed at Transition year students but anyone currently registered as a secondary school student in Ireland can enter. The competition has proved itself as a powerful educational tool – it has been running for a number of years as a national competition in the USA.
Organiser: Shane Murray, IT Carlow
email: shane.murray@itcarlow.ie
Bridge Design Competition
Students will learn about
Engineering though realistic, hands-on problem-solving experiences.
Engineering design
Different Type of bridges and how they work
How engineers use computers to solve problems
Instructions for designing a bridge with the Bridge Designer 2016:
You may use any available Bridge Design Project.
The design objectives are to (1) pass the simulated load test and (2) minimize cost.
Save your best design as a .bdc file, using the following format: bdc
Send your email to shane.murray@itcarlow.ie with the cost of your design in the Subject of the e-mail (for example, Subject: $123,456.78)
There is no limit to the amount of different bridge designs submitted or how often a design is revised. After the competition deadline of 4.00pm on Friday 5th March 2021, the team that has produced the cheapest successful bridge wins!
Competition Details
The competition is fun and easy to enter
The software is free and can be accessed online
The prizes are great
It's all FREE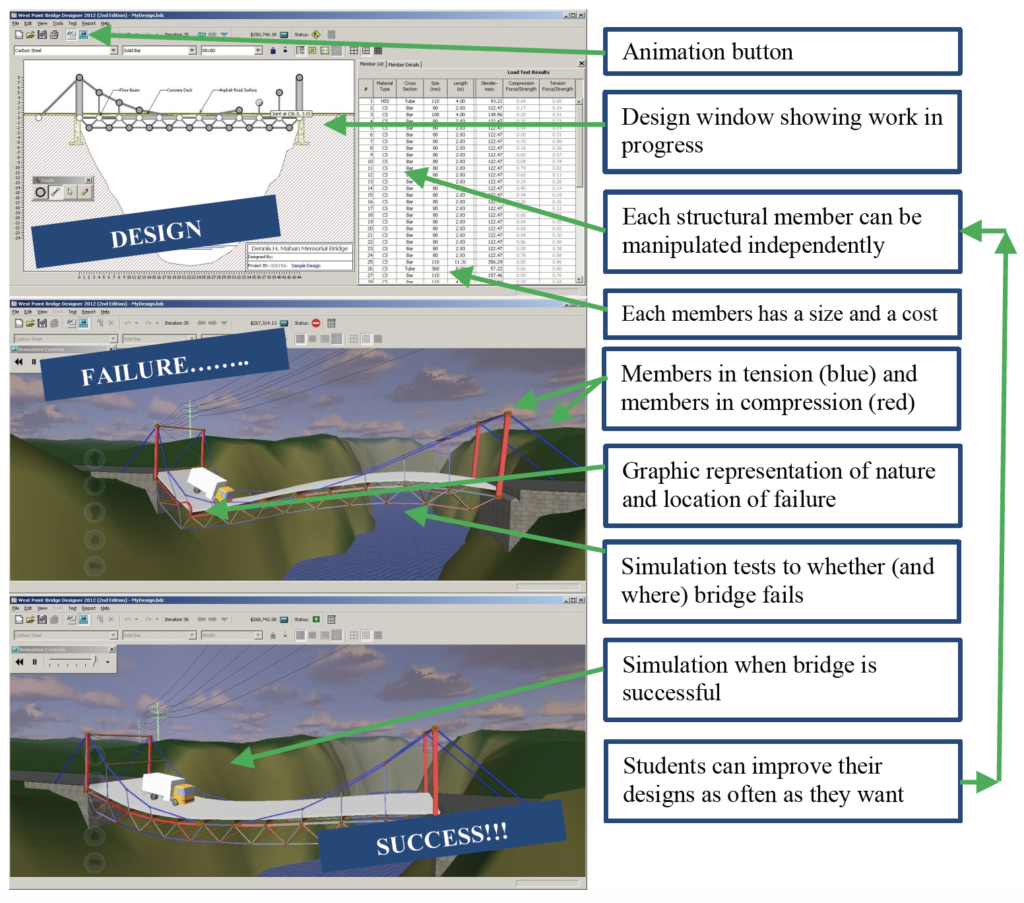 Students can download the free software at: https://bridgedesigner.org/download/ and must enter the Irish competition code to enter the competition. The code will be released on Monday 1st March 2021 at 9.00am
The software is simple to navigate and students will be able to instantly test their designs by running a simulation (see overleaf). They will be able to experiment with various configurations and tweak their designs for greater efficiency. For a comprehensive tutorial guiding through the creation and optimization of a bridge design can be found at: https://bridgedesigner.org/tutorial/
Once you have downloaded the software, you can then go in to create your own "New Design" or use one of the "Open Sample Designs" (both can be found under the "File" tab within the computer software).
As I am allowing students to use all different options when it comes to choosing a bridge type, the software does not require a "Local Contest Code". So when you or your students are answering the question "Are you participating in a local bridge design contest?" you can either choose "No" or "Yes, with a 4-character Local Contest Code" (however by choosing this option, it does not actually look for a code). I hope that clarifies matter for you,, sorry for the confusion caused.
I would encourage all students to view the following videos on how to use the computer software. (https://www.youtube.com/watch?v=9w9fTC4eh3w &/or https://www.youtube.com/watch?v=jkX_T8W7k20)
Should you or any of your students have any queries, please do not hesitate to contact me.
Regards, Organiser: Shane Murray, IT Carlow
email: shane.murray@itcarlow.ie