The festival is a partnership between Waterford Institute of Technology and Institute of Technology Carlow who are working together to become a technological University for the South East Region of Ireland.
Engineers design complicated things that make our everyday lives easy. Engineers then lead teams to build and make these things. The sort of things that engineers design are buildings, bridges, roads, water supplies, electricity supplies, mobile phones, computers and much more. Engineers are also working to find ways of reducing the threat of Climate Change. The Idea of the South East Engineering Festival is that people in the South East of Ireland can learn what engineers do. There are lots of great jobs in engineering in the region and you can learn to be an engineer at the South East's new Technological University.
This year's festival will kick off with World Day for Sustainable Engineering on Friday: from 4 to 11 March 2022. Please check back soon for more information and the event schedule.
This festival is part of National Engineers Week, organised by Engineers Ireland. You can find out lots about Engineering in the Schools section of their website www.engineersireland.ie
Enjoy the Festival!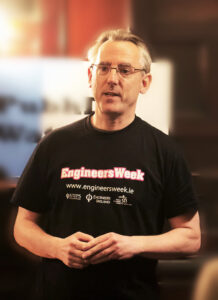 Eoin Gill
South East Engineering Festival