The World Engineering Day for Sustainable Development is celebrated worldwide on 4th March of each year since 2020. The day offers an opportunity to highlight engineers and engineering's achievements in our modern world and improve public understanding of how engineering and technology are central to modern life and for sustainable development.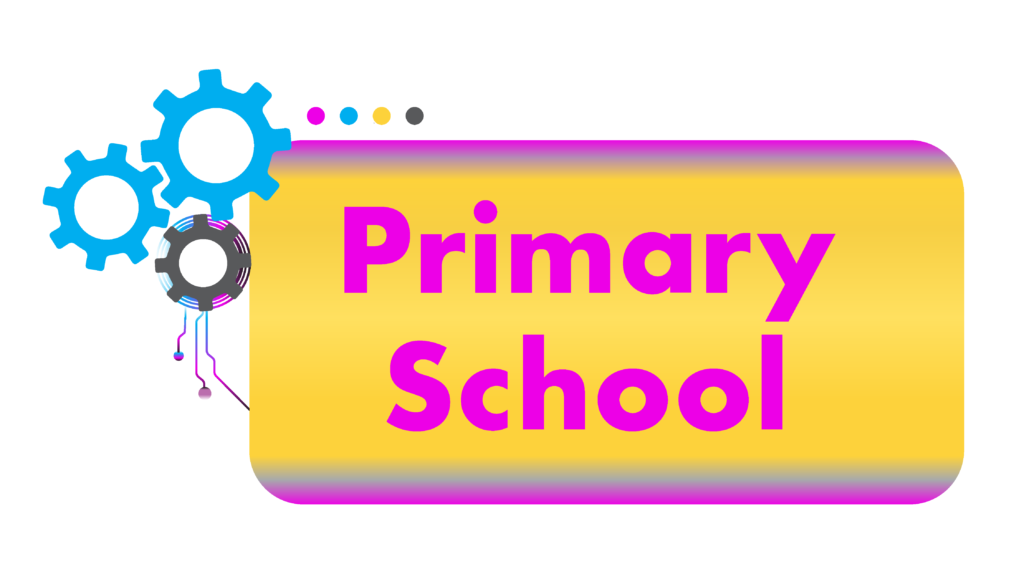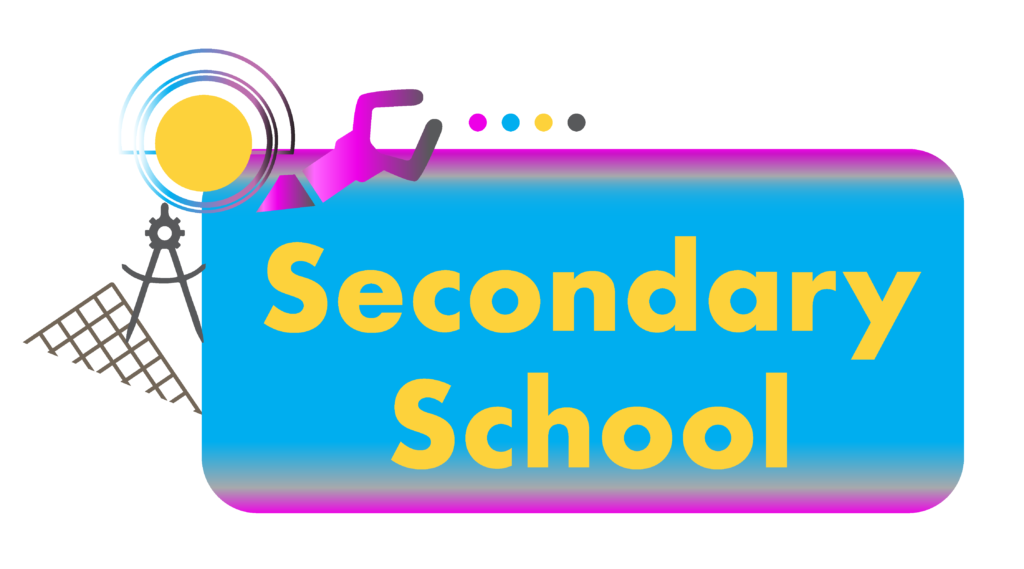 Drawing competition 'I am an engineer' 
Children of all ages are encouraged to draw on a template (that will be sent to schools). The aim of the competition is to show diversity in engineering and to let children know that anyone can have ideas and can be creative.
Download your template: Download Here.

and share it with us for super STEM prizes, on twitter using @EngFestSE #EngFestSE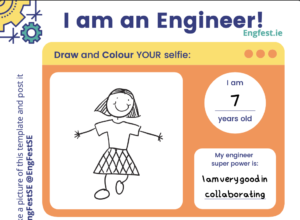 Clinic for Leaving Cert Engineering Students – 11th Feb, 1st March, 8th March 
Contact pallen@wit.ie 
Leaving Cert Engineering Students are invited to WIT for a series of drop in clinics designed to support project work. There will be 5 stations in the atrium led by discipline experts from WIT's Engineering Technology department: mechanical design, manufacture (3D printing etc.), electrical/electronic circuit design, electrical/electronic build (components etc. provided by WIT), project planning and technical report writing.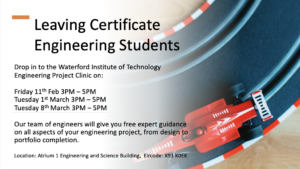 Storytelling & Creative Copters Workshop with libraries 
'Rosie Revere, Engineer' 
A storytelling session with a tech-creative workshop will be run by libraries with local classes.
A beautifully-illustrated tale of a girl and her dream to become a great engineer.
Where some people see rubbish, Rosie Revere sees inspiration. Alone in her room at night, shy Rosie constructs great inventions from odds and ends. Hot dog dispensers, helium pants, python-repelling cheese hats. Rosie's gizmos would astound—if she ever let anyone see them.
Afraid of failure, she hides them away under her bed. Until a fateful visit from her great-great-aunt Rose, who shows her that a first flop isn't something to fear—it's something to celebrate.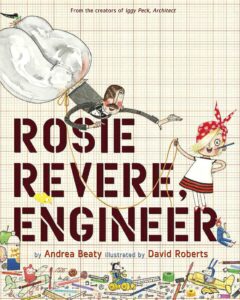 BUILD your Thaumatrope! 

Create your personal Thaumatrope – one of the first "cinemas" ever invented. Animations and optical illusions are strictly related in this playful experiment.
Thaumatropes were popular toys in the 19th century. They are made of a disc with different images on the two sides. Rotating the disc very fast, the two images "combine" to make one. This happens thanks to the so-called persistence of vision. The animation uses a similar effect to create a video out of a series of frames. Check zoetrope or stroboscope light for more insights!
Templates and instructions HERE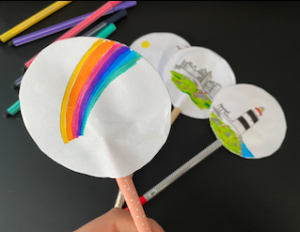 Engineering as a Career (for girls) – 08/03/22 at 9:15 am Online
This session will be for girls and will be led by Engineer Dr Niamh Shaw. To celebrate INTERNATIONAL WOMEN's DAY.
Niamh is an engineer, scientist, writer and performer, award-winning science communicator and a passionate advocate of Women in STEM, sustainability and education for all. www.niamhshaw.ie 
Niamh will interview a panel of young female engineers from the region.
Engineering as a Career (for all) – 09/03/22 at 11 am Online 
This session is open to all TY students (and other years).
It will also be presented by Niamh Shaw who will be joined by a mixed panel of engineers.
Niamh will interview a panel of young engineers from the region.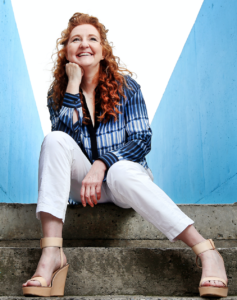 Engineering KITS 
We will provide a variety of kits for classes focused on electrical and mechanical engineering. Teachers will receive all the materials needed and instructions to deliver the workshop autonomously. We are also trying to organise Engineers' visits to schools if there is an interest for that.  Booked Out
Thank you all for your interest. We are oversubscribed for Engineering Kits and schools should receive their kits this week.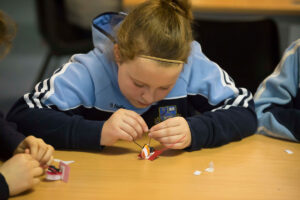 Bridge Design Competition – 11/03/22 Online
This is an individual competition with some great prizes. The competition is aimed at Transition year students but anyone currently registered as a secondary school student in Ireland can enter. The competition has proved itself as a powerful educational tool – it has been running for a number of years as a national competition in the USA.
Pupils can download free software and work on their entries during the week.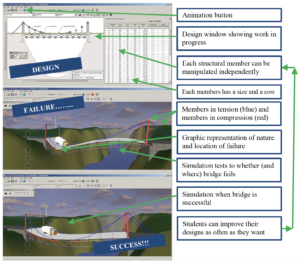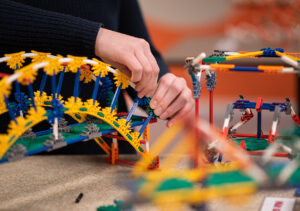 K'nex Engineering Challenge – 04/03/22 from 10am-12pm
Sports Hall, Barrow Centre, IT Carlow
5th & 6th class primary school kids (teams of 4-5 students). The K'NEX Challenge is an exciting introduction to the world of engineering.
The K'NEX Challenge model kits will allow students to design and build an engineering model of a real-life invention – all of which have a use in our everyday lives. This competition aspires to bring back the awe of discovery and the fun of creativity in Engineering by encouraging children to think of new concepts and interesting inventions. (Image credits )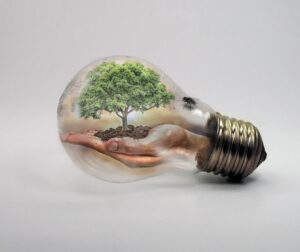 Sustainable Engineering Team Challenge: Can your students save the world?
Climate Change is the biggest challenge facing the planet and all living things on it (that includes us). We need creative, problem-solving and critical thinking skills to come up with local, national and global solutions. Young people are very aware of the threats and may be feeling "climate anxiety", this challenge can help focus them on positive action. While this is an engineering project, the emphasis is on well-thought-out ideas and creativity rather than engineering knowledge or calculations.
ON-DEMAND
Engineering-related activities and book reading for primary school are available on the On-Demand page of this website. For secondary school our last year event on MARS go check it out!
We have also videos with Engineers from the region HERE on our Careers on Engineering page.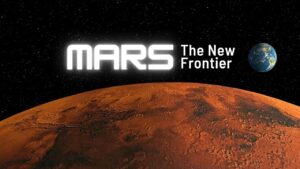 Engineering Week Quiz – 10/03/22 from 11 AM – 1 PM
Engineering Week Quiz to be held online this year in conjunction with Speed Quizzing Ireland. Schools can enter teams from TY and 5th year. Join the quiz remotely from your school or teams can also attend a centre on campus at SETU. This will be a fun, speed-based quiz with questions based on science, maths, engineering and fun music and general knowledge rounds. Please register your team and a full information pack will be sent out to participating schools. The project is supported by generous funding from SETU, Calmast, SFI and Engineers Ireland. Students will need to download an APP on their smartphone to participate.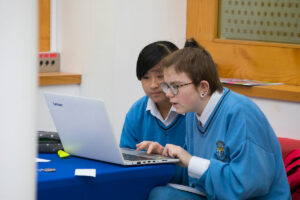 CAREERS IN ENGINEERING
We have also videos with Engineers from the region HERE on our Careers on Engineering page.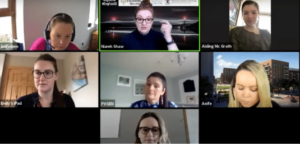 *Postponed*
Bots, Boats and Submarines – Daily 7-11 March at 10-12pm

Join the team from SETU's Engineering Technology, Applied Robotics Lab as they launch their next Student Flagship Project. This exciting event comes from the lab that brought you a series of innovative creations from self–driving cars to Robot Bengie and Lampbots. Be part of SETU Engineering's next big Student Project, join us for a 2hr launch party where the team will unveil the next project. 
The project is in the emerging area of Blue Technology, where Technology and all things Water converge.
After demonstrations of some recent projects, the new project will be unveiled to the audience. As part of the launch event, schools will get to contribute to the design, including name, logo and applications for the new project. Groups will be guided in an ideation process and pitch design ideas on the day.
This event is for TY, 5th and 6th Year students and one class will be hosted per day.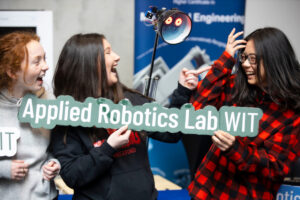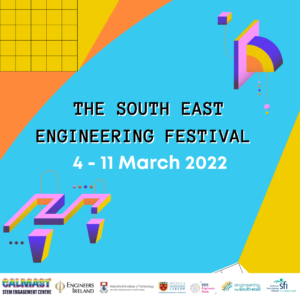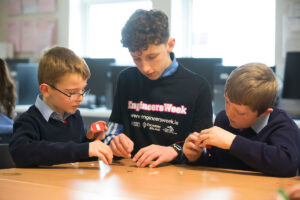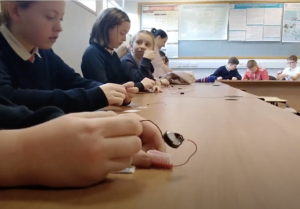 Engineering LockBox Challenge – 7 March at 12-4pm – Aircraft Hanger, Centre for Aerospace Engineering, It Carlow
The Engineering LockBox Challenge is a test of participants' ability to work in a team to solve engineering problems in an interesting and unusual environment. There will be a series of puzzles to solve, that will lead you to keys/codes to open a series of locks. The team that can open the box in the fastest time will receive a prize.
This challenge will test the knowledge of the participants, expand their lateral thinking which is an engineering skill and introduce them to the world of aerospace engineering and light aircraft.
This event is for Transition Year students, 3 teams of 4-6 students can take part per 45-minute slot.
Thank you all for your interest. This event is now fully booked.