Audience: Primary & Secondary School
Would your class like an opportunity to become real life marine explorers? Do they enjoy seeing their ideas come to life?
Win a chance for your class to take part in a real life, Marine based mission on the SETU Drone Boat LIR.
Engineering and Science students working in the Applied Robotics Lab at South East Technological University have built an Unmanned Surface Vessel (submersible and drone boat) that will be used to monitor and protect marine species. Its first European mission will take place off the coast of Valencia using pre-programmed GPS locations along the coast, automatically deploying its sensors and returning safely to base.
Before they set sail over the summer, the team hope to host a very special mission in partnership with students from the South East Region.
Winning classes will receive the opportunity to implement a mission on our Drone Boat the 'USV Lir' in collaboration with our SETU student team
This will include:
1 Day Workshop in the SETU Waterford, Applied Robotics Lab, explaining how to use technology on the Drone boat, Microbit based technologies
1 Day Live testing a mission with the SETU USV Lir, drone boat.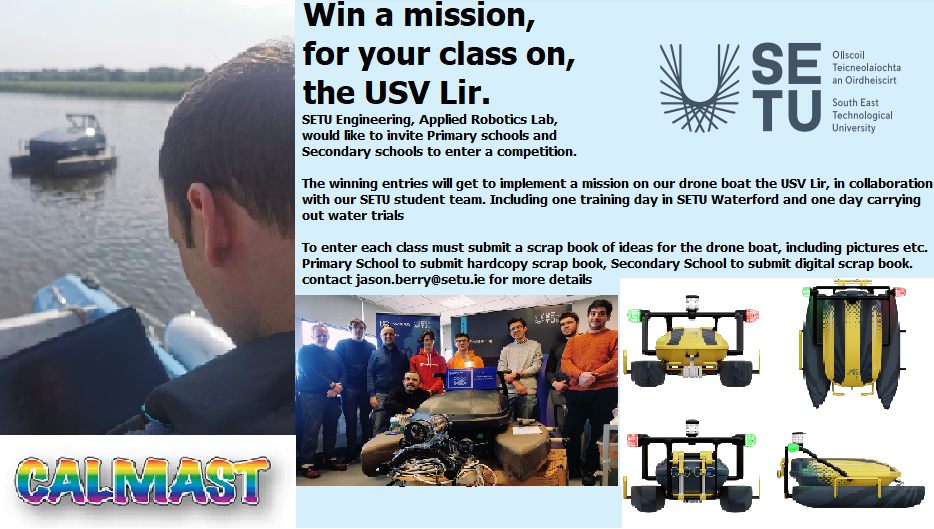 Background:
The USV Lir is a drone boat and submersible that the SETU student team are developing for Marine based applications. We have included some examples below of the projects the team are working on.
EU- CONEXUS UCV and SETU Collaboration for developing a marine drone
Competition:
We would like to invite you to submit your ideas for how a Drone boat or Submersible could be used to help our environment.
Please submit a scrapbook of pictures, hand-drawn, or computer-based, and stories explaining your class's concepts for the Drone Boat & Submersible. The best scrapbook will see their mission come to life. Primary may work on a hard copy, a digital copy is required for secondary entries.
The deadline for registration is March 10th with further details for schools to follow. The deadline for submissions of scrapbooks is April 3rd.
Primary School:
Send Hardcopy Scrapbook to:
Drone Boat Mission Competition,
Applied Robotics Lab C33,
SETU,
Cork Road
Waterford
Secondary School:
Applications email to: jason.berry@setu.ie